The best floor paints on the market today - Part 2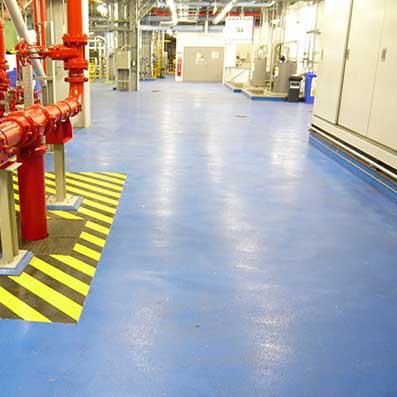 Below is a quick simple table to help you choose the right paint to fit your requirements:
| | | | |
| --- | --- | --- | --- |
| Product | Traffic | RRP | Finish |
| G136/T Floor Sealer | Medium | £37.26/5L | Semi-Gloss |
| G136 Floor Paint | Medium | From £50.19/5L | Semi-Gloss |
| W138 Acrylic Floor Paint | Low | £52.25/5L | Semi-Gloss |
| W460 Anti-Slip Acrylic Floor Paint | Low | £59.13/5L | Matt |
| G136 Suregrip | Medium | £68.33/5L | Aggregated |
| W449 Tennis Court & Drive Paint | Medium | £58.71/5L | Matt |
| W222 Profloor | High | £126.74/5KG | Off-Gloss |
| Q225 Profloor Plus | High | £155.82/5KG | Gloss |
Do I need to prepare the floor before applying the floor paint? For heavy traffic industrial environments, prone to oil spillages two pack epoxy coatings are the best floor paint coatings for the job. Two pack epoxy coatings require you to mix a separate hardener/catalyst into a base material. They chemically cure rather than air dry and leave you with an extremely tough and durable finish designed to take a lot of traffic and abuse.
Each different substrate has its own properties and as a result needs to be prepared accordingly. Bare concrete, etched, to remove any dust and laitance, this can be done using Coo-Var's Acid Etch solution, bare wood should be sanded and primed, bare metal should be degreased and abraded, Tarmac should be thoroughly cleaned and power washed down.
All substrates should be checked for oil and grease. Oily/greasy floors can be a problem, especially if the oil has penetrated into the surface, this can be removed using a Oil Remover or Degreaser.
Previously painted substrates should have all loose flaking material removed with a test area completed to check for compatibility.
Two pack epoxy coatings should only be applied onto previously painted floors that have the same type of two pack coating underneath. Any previous unknown paint should be Mechanical ground away from the concrete in preparation for the application of epoxy coating,
How much floor paint do I need?
This is dependent on the product and size of your project, porous surfaces such as rough concrete will tend to absorb a lot of the first coat of paint so it's important to go on the lower end of the manufacturers square meter guidance. The best way to check the quantity required is to check the technical data sheet of the floor paint you are intending to use; this will have a square meter coverage guide to help you work out how much paint you need for your area.
As a guide, a standard single garage is around 18 sqm.
The minimum size of a double garage is around 27.5 sqm.
If you're in any doubt, all of this can be discussed with the Coo-Var technical team who will help you select an appropriate coating system on 01482 328053 or at info@coo-var.co.uk&l