Coo-Vars Latest Attraction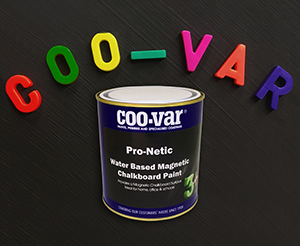 Pro-Netic is a new addition to the Coo-Var specialist paint range, A Water Based, Magnetic Chalkboard Paint in one!
Coo-Var has been a manufacturer of specialist problem solving paint products since 1908, based in Hull, East Yorkshire. They have seen continual growth and investment in both manufacturing and staff resources. Paints ranging from Floor, Sport and Line Marking paints through to specialist paints such as Anti-Condensation, Varnishes and Oils. Coo-Var products enhance Safety and Security, as well as the appearance.
''I am thrilled to announce the product launch of Pro-Netic for Coo-Var. Although magnetic chalkboard paint is nothing new to the market, Pro-Netic is superior, as with all Coo-Var products it is recognised for its quality'' says Danielle Dutton, Brand Manager for Coo-Var. ''Pro-Netic provides a matt black finish when used with a brush and creates a magnetic surface anywhere. As it is a water based coating it can be used in homes, schools, offices, restaurants and hotels.''
For more information or technical advice on Pro-Netic please contact the Technical hotline on 01482 328053. To become a stockist, please contact Sharron Drayton in the Sales Office on 01482 328053 or email info@coo-var.co.uk. To download more information, visit the Coo-Var Website at www.coo-var.co.uk.
Follow us on twitter & Facebook for regular updates.