Product Review- Shellac Prime All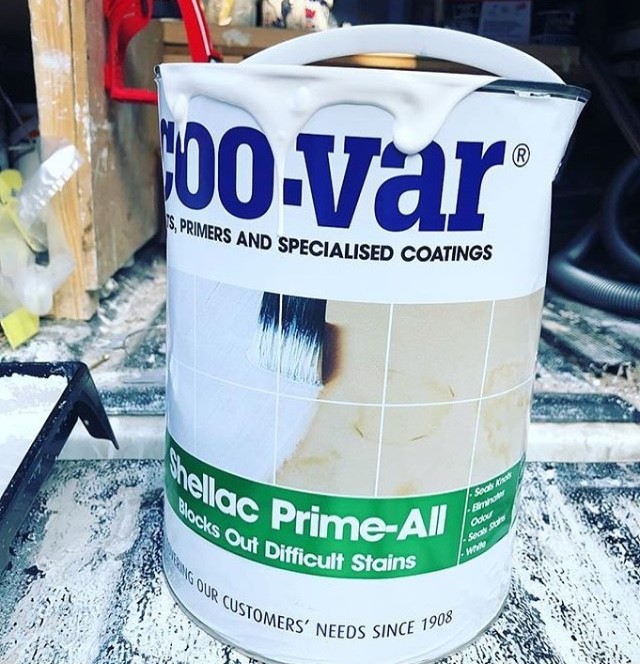 My name is Thomas Holloway and I run a company called Holloway's Professional Decorating and Consultancy based in Dorset.
I was sent 5ltrs of Coo-var shellac based prime all to try and test for a product review. Now with all the product reviews I carry out on various different products for many companies I always test these products vigorously in a working environment. Not in a laboratory but day in day out exposure to meet the needs of the end users such as myself. If for any reason I find fault this is always reiterated in my product reviews. Now the Coovar shellac based prime all has many different uses as it offers multiple solutions for various situations.
Firstly I'll start with it as a primer for all new and bare wood including knitting being shellac based. I was faced with some beautiful 6 inch natural timber skirting board which to be honest is rare as many opt for the pre primed mdf now.
Not this client. They prefer the natural aesthetics and the Shellac primer would be suited to this task perfectly. Following a thorough shake in my local suppliers i set to work on priming this bare timber. The first thing I really noticed with the Coovar product was the overall consistency of the product. It felt thicker than a well known rival I have used prior and felt more like a traditional waterbased undercoat. This meaning it passed through the brush beautifully and the lay off was sublime! Now I have 7 frames and roughly 45 metres of skirting to prime and I tell you one thing I loved every minute of using this product. I was confident in the finish it would produce and decided to go the full way with this sample. Knots were over painted accordingly and the finish was solid. Scratch test was passed within hours of application and I knew I had a solid base for my top coats. Now prior to the painting I had to use an awful lot of caulk as unfortunately it is a period property and it does not benefit from well I'll say flat walls. One of the most single frustrating things for a decorator in my opinion is the cracking of caulk. I overlapped the primer just shy of 8mm onto the wall to cover the caulk also. Could this prevent the waterbased top coats from cracking?? Certainly did! I love this product for priming.
Now moving on it also tackles stains.
Again I had the perfect situation, another client the following week had a dried water stained ceiling following a plumbing disaster. Coovar Shellac primer put to the test again. This stain was quite severe and large therefore I applied 2 coats of the shellac based primer to the stain and surrounding areas. Followed by 2 coats of vinyl Matt in white it was as if it never existed!
I am in awe of this product and I'm certainly out with the old and in with the new, Coovar certainly has a place in my day to day running of my business.
I will be testing this product in due course on varnished surfaces but if I'm honest I'm very confident it will perform !! Fantastic