Springing into Summer with Suredeck®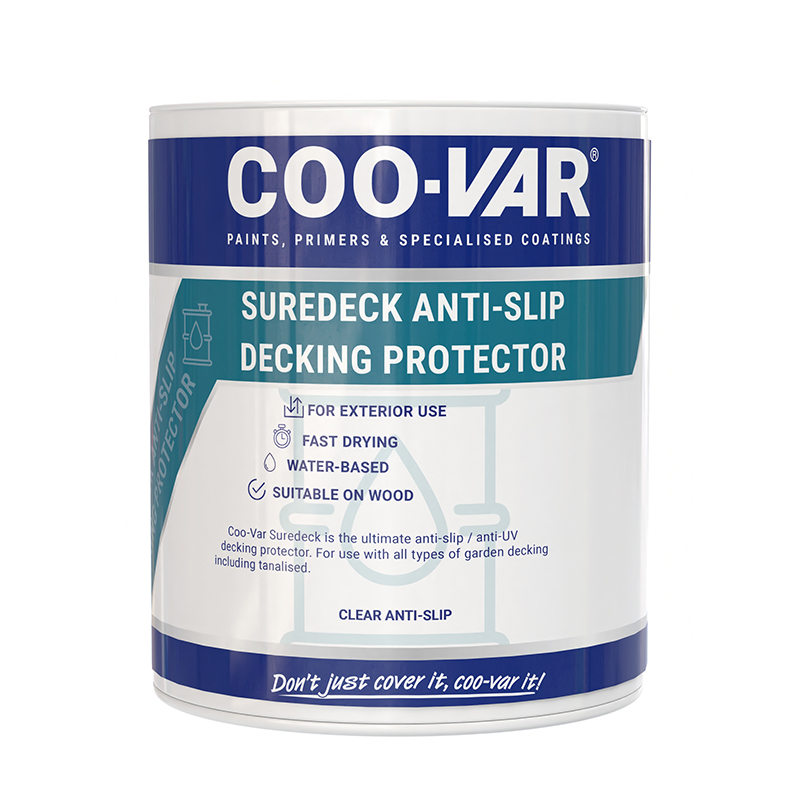 Coo-Var has outside decking areas covered this year, introducing our latest product Suredeck® Anti Slip Decking Protector.
''Ours customers have always asked for a decking paint suitable for tanalised wood and decking. Following thorough research and development, we are pleased to announce our new product Suredeck® will be available in time for Spring'' says Danielle Dutton, Marketing Manager for Teal & Mackrill.
Decking is renowned for being slippery when wet, Suredeck® can eliminate this problem with just 2 coats. Suredeck® offers a high-quality clear water-based UV resistant coating. For outside decking areas, tanalised wood, soft woods, oaks and pine where an anti-slip finish is required. Slippiness usually occurs when untreated decking gets aged and damp. Suredeck® has a PTV value of <35 making it a low slip risk to walk on in wet & dry conditions. Suredeck® also brings out the natural wood effect and leaves a low sheen.
Coo-Var products are recognised for their quality and Suredeck® will be a perfect addition to spruce up the garden this year in time for summer.
Features of Surededeck® include:
UV & Water resistant
Suitable for tanalised wood
Fast drying
Water Based
Reduces fading
Maintains the natural appearance of the wood
Available in 1L, 2.5L and 5L
Coo-Var has been partnering with our customers for more than a hundred years and the result is a range of exceptional, problem-solving products – including their enduring, well-known floor paints – along with outstanding training and technical help.
For more information or technical advice on Suredeck® please contact the Technical hotline on 01482 328053 or to become a stockist, please contact the Sales Office on 01482 328053 or email info@coo-var.co.uk.